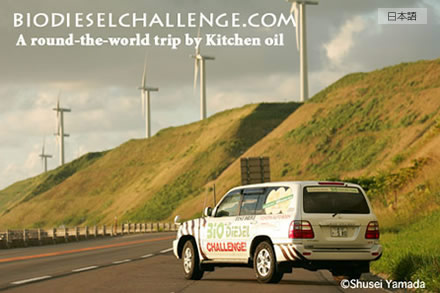 Biodiesel Challenge Project
The Biodiesel Challenge Project was established to support an attempt to drive around the world, without the use of fossil fuels, in a car powered by Biodiesel Fuel (BDF). While passing through different countries during this journey, information about interesting ecological tools and systems encountered as well as stories about individuals who have effectively incorporated "eco-energy" into their lives will be collected from around the globe and reported.
The First Biodiesel Fuel Car to Race in the Dakar
The idea for the Biodiesel Fuel Challenge first came about at the end of 2005. An initial test drive took place during the Spring of 2006 and in July of the same year, an attempt to drive the length of Japan, approximately 4,000km from the North to South, using 100% BDF was also successfully completed. In the following month of August, a 20,000km trip across ten different countries (nine European countries and one country in Africa) in a car fueled by BDF took place with the objectives of test driving the car as well as gathering pertinent information along the way.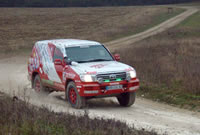 After the successful completion of the first three trips, at the request of the Toyota Autobody Team, a decision was made to race in the 2007 Dakar in a Toyota Land Cruiser 100 using BDF. As a prelude to this race, the car was driven in a desert rally called the UAE Desert Challenge that took place in November 2006. The team placed 3rd in class and 17th overall in this race. For the 2007 Dakar, the team will be competing in the Diesel Cross Country Production Vehicle class.
An"Eco-Car"that Reduces Carbon Dioxide
Shusei Yamada, the person who brought up the idea for this Project, is an experienced photojournalist and adventurer who has participated in the Dakar Rally by motorcycle twice and has covered the race 19 times as press media. Based on the succeessful completion of multiple test drives, he is convinced that it is possible to complete the Dakar in a vehicle that is completely powered by BDF. In order to do so however, several modifications were required. The capacity of the fuel tank was increased to approximately 380L, which is 50L larger than the regular fuel tank. A separate pre-filter and fuel pre-heater was also installed in addition to the fuel filter. Finally, the body of the vehicle itself was made out of a bio-plastic material produced from kenaf, a plant with superior capabilities to absorb carbon dioxide, thereby creating a truly "eco-friendly" car that "holds" carbon dioxide from the air and contributes to the reduction of CO2.
Driving Around the World
Using Tempura (Vegetable) Oil
Currently, the construction of a device that can process used vegetable oil into BDF is underway. After the Dakar Rally, this device will be installed in the car which will be driven around the world using this processed "vegetable oil" as fuel.
In Japanese households alone, approximately 300,000 tonnes of used vegetable oil is thrown out. This would amount to over a million tonnes for the entire world! This used cooking oil, when discarded, would end up polluting the environment. However, if the oil were to be converted and used as car fuel, it would become an ecologically friendly fuel that doesn't increase carbon dioxide levels.
This Project, a journey around the world by a car fueled by biodiesel, is an attempt to make this concept a reality. Used vegetable oil will be collected in different places by holding concerts, photography exhibitions and events put on by volunteers. Instead of cash, admission to the events would be a bottle of used vegetable oil. The cooperation and support of many volunteers will be needed in order to make this Project possible and would be deeply appreciated. If you are interested in taking part, please feel free to contact the following number/email address anytime.
Dakar Rally Team:
TLC (Team Land Cruiser TOYOTA AUTOBODY)
http://www.toyota-body.co.jp/dakar/index.html
Biodiesel Challenge
http://biodieselchallenge.com/
Dakar Rally Official Site
http://www.dakar.com/
Contact:
haute_loire@yahoo.co.jp
What is Biodiesel?
Biodiesel Fuel (BDF) is a type of diesel fuel that is derived from plants. It is produced from vegetable-based oils such as canola, soybean as well as used tempura oil and is considered a renewable source of energy. In addition to this, BDF is a carbon neutral fuel that does not increase the amount of carbon dioxide in the atmoshere and has thus drawn more and more attention as a new source of energy and an alternative to non-renewable and rapidly depleting fossil fuels such as petroleum.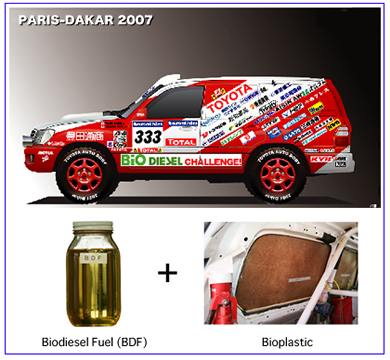 Carbon Neutral BDF
Similar to petroleum, CO
2
is emitted during the combustion of BDF. However, since the source of BDF originally comes from plants which absorbs carbon dioxide from the atmosphere through the photosynthesis process, it is thought that the CO
2
emitted during the combustion of BDF does not increase the net amount of carbon dioxide within the atmosphere thereby making it "carbon neutral".
What is Bioplastic?
Kenaf is a grass that grows all year around and can reach a height of 3 − 4 metres within half a year. It has the ability to absorb CO
2
from the air at a rate that is 3 times higher than a tropical rain forest and 7 times higher than a cedar tree. It is also an effective water purifier given its strong ability to absorb nitrogen and phosphorous from water. A strong fibre can be taken from the outer layer of the Kenaf plant, and from the core, a lignin resin or "glue" that solidifies when heated can be collected. The fibre and resin are then combined to form an ioplastic board which is a superior material that is lighter but just as strong as material made out of regular resin.